Sponsoring Gawler Eagles FC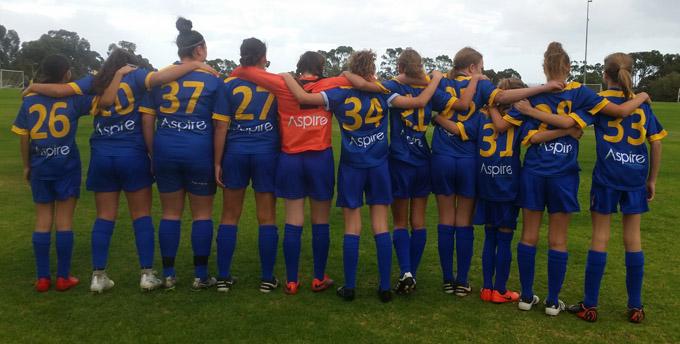 Gawler Eagles' Under 15s girls proudly show off their very smart shirts featuring
club sponsor Lanser Communities' Aspire development at Evanston South.
Sponsoring Gawler Eagles FC is a great way to support your Gawler Community. The Gawler Eagles was established in 1978 and young men and women from all diverse backgrounds proudly represent the community you love. Here's why...
COMMUNITY: Gawler is a vibrant community far removed from the urban sprawl of Adelaide and is the gateway to the beautiful Barossa Valley with a population of nearly 30,000. Sport is a feature of Gawler's diversity and the Gawler Eagles is proud to be the home of soccer.

PROFESSIONAL: Gawler Eagles is the furthermost Northern FFSA fullyaffiliated club in Adelaide. It is ideal for local players, both men and women, to play at the highest level and develop their football skills and be part of Pathways, a thorough FFSA program devoted to identifying and developing emerging talent. Gawler Eagles would love to help your child on their way to a long and enjoyable playing career. You can view details on the Pathways program on the FFSA website - www.ffsa.com.au
LOCALS: Gawler Eagles is the ONLY football code to represent Gawler throughout Adelaide. Other codes play in local competitions, but Gawler Eagles takes its game on the road. We are equally proud to provide local players the opportunity to represent your community.
WOMEN: Gawler Eagles has a long and proud history of fielding women and girls teams in the FFSA competition. The girls love playing soccer and their parents and friends love watching them perform both at home and away.

MULTICULTURAL: The world game is a multicultural celebration and Gawler Eagles has a very diverse culture going back many years. Many nationalities have pulled on the blue and gold and it is this diversity that adds strength to the Gawler community.

KIDS: Theres nothing better than watching boys and girls of all ages enjoy playing soccer with its Mini Roos program. A happy and healthy sport activity is invaluable to kids and parents alike. Gawler Eagles is a fun place to be for kids!



Your sponsorship will provide exposure to thousands of participant, parents, relatives, coaches and the community leaders who recognise those who support their family passion. Supporting Gawler Eagles FC would assist in keeping participation costs affordable for player's families, pays for improvements to our facilities and to provide up-to-date training equipment. We have a number of different levels of sponsorship available. They include:

Platinum Club Sponsorship Package
Gold Club Sponsorship Package
Silver Club Sponsorship
Bronze Club Sponsorship Package
Fence Signage

Tailored sponsorship packages are also available. Contact Gawler Eagles FC via the form below for details :)

Sponsoring the Gawler Eagles FC

© Copyright Gawler Eagles