Welcome to Gawler Eagles FC
Gawler Eagles FC is proud to announce that prominent South Australian football identity Charlie Villani will coach the Eagles in season 2019. Charlie has an impressive football career, most notably as coach of Adelaide City and as a Socceroo. Charlie is very enthusiastic about taking the reigns at Gawler Eagles FC and is looking forward to encouraging and developing players in his senior, reserves and under 18 ranks.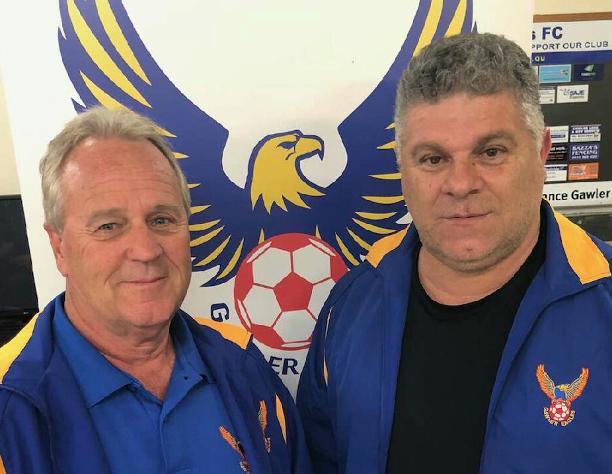 Acting President Ivan Garrard (left) welcomes Charlie Villani to Gawler Eagles FC.

Gawler Eagles FC's vision is to be the premier soccer club in the northern Metropolitan and Regional areas. The Club is committed to the promotion and development of our community through participation in soccer, to provide a positive, supportive, inclusive and safe environment where soccer players from diverse backgrounds are guided and inspired to reach their full potential both on and off the field.

Established in 1978, Gawler Eagles is fully affiliated with the Football Federation of South Australia (FFSA). We currently fields teams in the following competitions:
FFSA Men's State League 2
FFSA Women's League
FFSA Junior Premier League
FFSA Junior Girls
FFSA Mini Roos Football

Our core values are based on respect, excellence, accountability, discipline, integrity and teamwork. Our strategic priorities are governance, club culture, stakeholder relations, development and facilities & infrastructure. To read more about our strategic plan click here.
GAWLER EAGLES FC MAJOR SPONSORS

© Copyright Gawler Eagles